Implementation of the Big Ust-Ilimsk project has entered an active phase. The Mill worth more than USD 1 billion will be started up in 2022 to become the largest KLB production facility in Russia.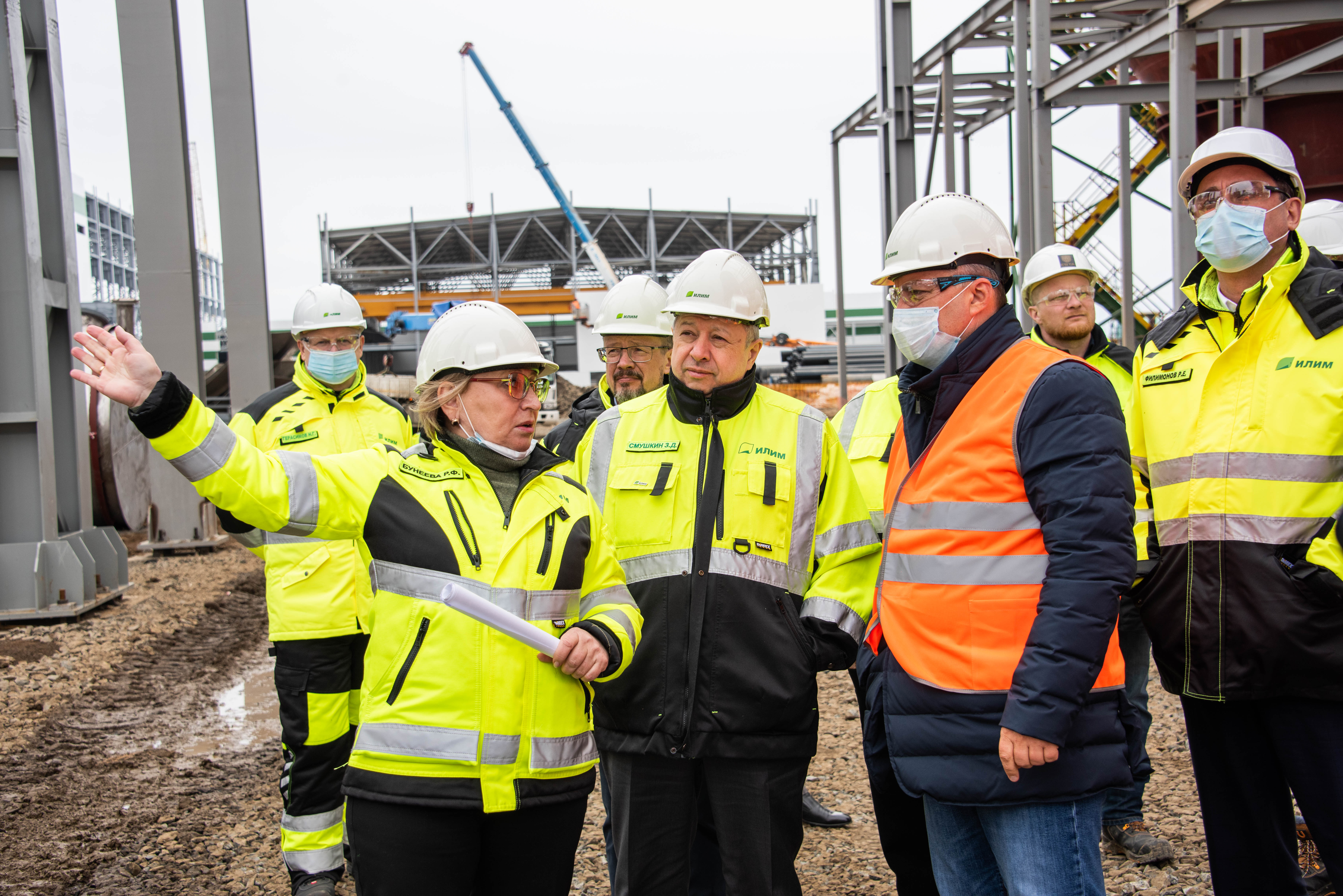 On April 24, 2021, a delegation of the Irkutsk Oblast Government led by Governor Igor Kobzev visited Ilim's new production site. As part of the visit, the Governor met with Zakhar Smushkin, Chairman of the Board of Directors of JSC Ilim Group, to discuss, inter alia, opportunities for cooperation under the Big Ust-Ilimsk project. Igor Kobzev said that Ilim Group was a strategic partner of the region and the Irkutsk Oblast Government extended its full support for Ilim's business development initiatives.
Ilim's new KBL Mill in Ust-Ilimsk has become the largest greenfield project in the Russian pulp and paper industry over the past few years. Once fully ramped up, the KLB Mill will produce 600 thousand tons of containerboard per year. The new facility with a total installed cost exceeding USD 1 billion will create 850 new jobs.
Upon project completion, Ilim will become one of the largest manufacturers of unbleached packaging materials globally with a total output of 1.5 million tons per year.
In the second quarter of 2021, the Company will proceed with installation of a KLB machine supplied by Voith. Custom designed for Ilim Group, it will be the largest machine in Russia with width exceeding 9 meters, which will allow to produce products in a wide range of formats.
The first quarter of 2021 saw the start of construction of a wastewater treatment plant and ongoing installation of equipment of the woodyard, vacuum evaporation plant, recovery boiler, caustic plant and other facilities.
The start of the trial run is scheduled for the third quarter of 2022.
Implementation of several digital projects will allow to ensure maximum automation of the KLB Mill processes, including such unique digital solutions as process digital twin, asset digital twin and a centralized control room, aimed to optimize processes and improve the efficiency of operations management.
The new KLB Mill will be built in line with global environmental standards and best available technologies. It will utilize both softwood and hardwood. Every year Ilim Group performs reforestation activities in leased timberlands. As part of this work, the Company will set up a forest nursery with a capacity of 10 million ball-rooted seedlings (pine and spruce) in the Irkutsk Oblast in 2022.
Reference information:
Ilim Group is the largest manufacturer of pulp and paper products in Russia. Ilim has three pulp and paper mills in the Arkhangelsk (Koryazhma) and Irkutsk (Bratsk, Ust-Ilimsk) Oblasts, two modern corrugated box plants in the Leningrad and Moscow Oblasts, and Sibgiprobum engineering and design institute (Irkutsk). The Company's total output in 2020 amounted to 3.6 million tons per year. Ilim supplies its products to more than 70 countries worldwide (the key market is China with Ilim's exports in 2020 exceeding 1.6 million tons of products). The Company employs more than 17 thousand people.